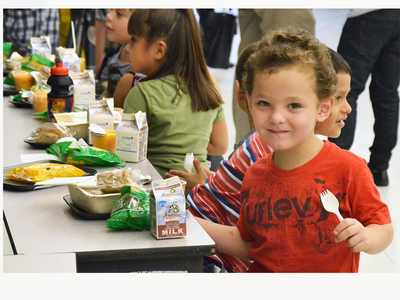 FREE AND REDUCED LUNCHES
Households can apply online for meal benefits for the 2015-16 school year. Online FRL applications are available at www.applyforlunch.com. Paper applications are scheduled to be available at the schools on Aug. 12. Online application kiosks will be available at the Cox Back to School Fairs. For more information, email FSFR@interact.ccsd.net or call (800) 819-7556 (toll free).
Parents and guardians of CCSD students can pay for meals, check balances and view purchases from anywhere on their computers or smartphones by accessing or downloading the MySchoolBucks' mobile app. There is no processing cost from CCSD. Normal individual credit card company charges apply. For details, email msb@interact.ccsd.net or call (702) 799-8123.
TRANSPORTATION
The Clark County School District provides bus transportation for general education students who live two miles or more from their zoned schools. Exceptions may apply for students with special needs and also for students who may encounter hazard areas like construction zones on their way to school.
Parents can check eligibility for their students and get bus stop information by visiting transportation.ccsd.net three weeks prior to the start of each school year.
Bus stop locations for students attending a Magnet school are at designated, centralized locations throughout the district. Magnet bus stop locations are limited to keep student ride times within 60 minutes in length. In accordance with District Regulation 3531: "The ultimate responsibility of safe student passage to and from school/pickup points rests with the parent or legal guardian."
To obtain information on school bus transportation, call the Transportation Department at (702) 799-8111 or online at transportation.ccsd.net. Call center hours, through Aug. 22, are as follows:
Weekdays – 6 a.m. to 5 p.m
Saturdays – 8 a.m. to 4 p.m.
Magnet students seeking information on transportation may click here or call (702) 799-8492.