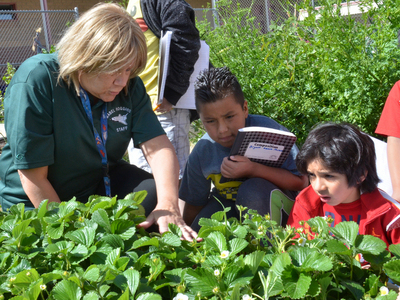 A quick scan of the Clark County School District's (CCSD) 5-Star elementary schools reveals a common thread – many of them have unique learning resources and/or special programs that are designed to encourage learning and creative thinking. At Mabel Hoggard Elementary School, they have both.

The school, located in the central part of the Las Vegas Valley, near U.S. 95 and Rancho Drive, is a Magnet School specializing in math and science that also has special learning areas including a life science lab, music lab and museum. Not bad for one of the district's older schools that opened in 1952, four years before the school district was formed by the Nevada Legislature.

Although it is a Magnet School, Hoggard is comparable to many of the district's other elementary schools. About 60 percent of the school's 500 students qualify for the federal Free and Reduced Lunch program and it has ethnic diversity, including about 25 percent of its students classified as English Language Learners.

The life science lab is the featured attraction for students as it consists of two classrooms and two outdoor work areas including a vegetable garden. Between the classrooms and the outdoor areas, more than 80 animals, ranging from fish and reptiles to small mammals including one very social goat named Gertie, make their home at the school.

Fourth- and fifth-grade students are responsible for caring for the animals, but at this school, it is hands-on for all students in kindergarten through fifth-grade, according to Principal Stacey Scott-Cherry. "With the emphasis on math and science, all of the children in the school utilize the lab areas at least once a week," she said. Scott-Cherry, who recently came to the school, has been impressed with the learning resources that are available at Hoggard. She believes the resources boost students' test scores in addition to increasing their interest in learning.

"By working with the animals, students learn compassionate responsibility and that spills over to behavior that becomes embedded in them as they work with other students," said Scott-Cherry. "I believe this is one of the reasons why we don't have a bullying problem at the school."

The labs are so popular that students are going in and out during recess, lunch and before/after school.

Another tremendous learning resource at the school is a museum that was created and is maintained by students. The museum contains a variety of artifacts and exhibits that feature the stories of Nevada's history, including the construction of Hoover Dam. Students in grades three through five serve as docents for the younger students when they tour and utilize the museum.

"Our museum provides a very unique teaching and learning experience for our students," said Scott-Cherry. "They take great pride in the amount of ownership they have with creating the displays that are on exhibit in the lab. That learning continues as they become 'curators' and teach their research to the younger students," said Scott-Cherry.

Teachers and administrators who have questions about the facilities at the school can contact Scott-Cherry via InterAct.